Microsoft has bought Acompli. The operation announced by Rajesh Jha, corporate vice president of Outlook and Office 365. These departments are precisely those that welcome accompli products and equipment of the startup that made them possible.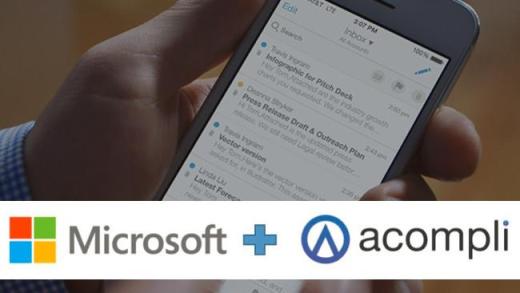 For those who do not know, Acompli is a small startup in just 18 months of life created with the intention of improving the experience of email on mobile. It counts with individual applications for iOS and Android, with support for multiple accounts, including Exchange. Its combine email and calendar in one place, and have all kinds of shortcuts and extra features to more comfortably handle all mail, contacts and attachments.
It may sound like other similar projects, but the truth is that Acompli has garnered good reviews in the time that is available. That's why from Microsoft understands that the Acompli team and proposal to manage their email is adequate in a world where mobile devices are increasingly more important for daily work. In Redmond they hope the acquisition will serve to improve what already offers Outlook and strengthen its offerings across multiple platforms, as they are already doing with Office for iPad, iPhone and Android.
Although Acompli and their team go directly to joining Microsoft, their applications will continue to operate as usual. Thus, service users will not notice the change and their accounts will still work the same way they had been doing. The developers also plan to continue updating the application every few weeks.
Both companies had long talks. Even own Acompli CEO wrote a note about the absence of Outlook among the tools of Office for iPad. Now, months later, Microsoft has bought his company by an unknown figure, but according to Re/code exceeds $200 million.