Samsung expands its range of smartphones Galaxy A with a new model, The Galaxy A7, offering a 5.5 inch screen. This choice makes the Samsung Galaxy A7 largest member of the series, but it still has a slim design with a thickness of only 6.3 mm.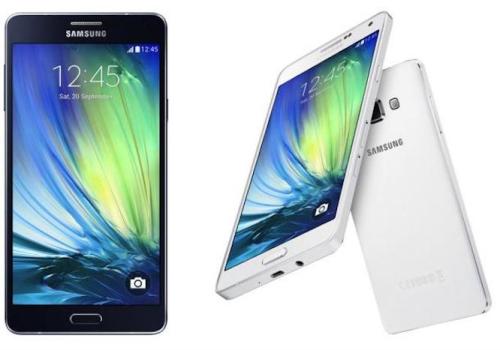 Like the Galaxy A5 and Galaxy A3, her two little brothers, the new smartphone also features a metal frame.
The new model has decent features, but it is not the most powerful smartphone from the company if you want more detailed specifications, should probably best bet on a Galaxy Note 4 or Galaxy S5.
The Galaxy A7 thus has a Super AMOLED screen of 5.5 inch which is only described as "HD", which suggests that it is probably a screen with a resolution of 1280 x 720 pixels. Samsung will offer a dual SIM model, with Qualcomm eight core processor, Snapdragon 615, and single SIM variant, with a Samsung Exynos 5430 processor.
Both versions offer support for 4G LTE connectivity, Wi-Fi 802.11n and feature a Bluetooth 4.0 chip. It will also be equipped with a 13 megapixel rear camera, a 5 megapixel front camera. There will be a wide-angle lens that will delight lovers of Selfie. Smartphones are equipped with a battery of 2600 mAh.
The Galaxy A7 has 2GB RAM, 16GB internal storage, and a micro-SD card slot capable of providing up to 64GB additional storage.
The Galaxy A7 will come with Android 4.4 KitKat, although we expect an update to Android 5.0 Lollipop arrives shortly after its launch. According to Samsung, the Galaxy A7 defines "a new standard for social interaction" with a number of features, including "Ultra-Wide shooting" and the parameters "Auto Selfie" for the front camera, or the ability to take pictures with the voice and body language.
The 4G LTE connectivity should help share your photos on social networks. On the Galaxy A7, Samsung has added metal on the sides of the unit for a feeling more premium, removing most of the plastic material seen on older devices.
It is not yet known when the Galaxy A7 will be available or how much it will cost, but Samsung says that it will be available "at a competitive price". However, it will be marketed from 509 euros and will be available towards the end of the 2015 first quarter.