Microsoft gives Android tablet owners another chance to preview its upcoming Office applications on a tablet.
In a message on the Office blog of the company, Microsoft wrote that they need to collect user feedback before launching the official versions of applications. Available for download on the Google Play Store, we will find Word, Excel and PowerPoint.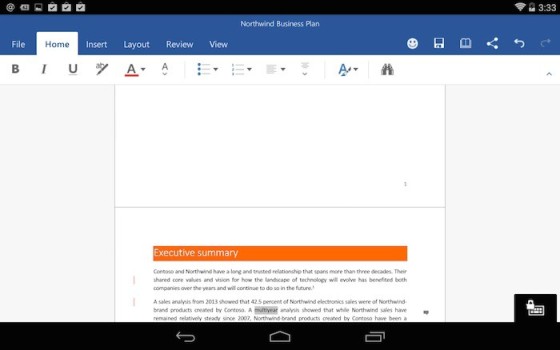 To participate, you need a tablet based on ARM architecture with a screen size between 7-10.1 inch to make them work, and must be updated to Android 4.4 KitKat and Android 5.0 Lollipop.
In addition, a Microsoft account is required to download applications. The files can be stored locally or by using the storage service on the Microsoft cloud OneDrive. If you have a Dropbox account, Office can connect to it. As expected, the applications are freemium versions, which means can create documents and perform simple editing. But, you'll need an Office 365 subscription to produce more.
Microsoft has recently produced an effort to expand the scope of its Office applications on Android and iOS in order to gain more market share for its popular suite. This is in stark contrast with the past, since the Windows and Windows Phone versions of Microsoft Office came after the iOS and Android versions.
Microsoft has launched a beta version closed for Office on Android tablet in November 2014, which ended once they had collected enough participants. The software giant has previously stated they expect to make Office for Android available in 2015.