We know that in spring it has to get a smart watch by Swatch, and autonomous company that prefers to go alone on this adventure, without approaching any of the existing platforms for wearables. Today we know a new product that could well be this smartwatch: Swatch Touch Zero One, but we believe that something else has to come later.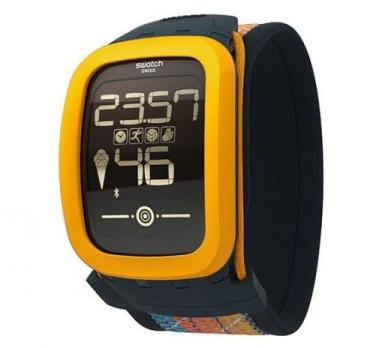 It is a notifier clock and quantification of activities that practically needs a mobile phone for most of its features is productive. The Swiss watch giant has decided to give it a fresh design and direct it to a specific sport such as volleyball.
The Touch series carries a time living with us; it is a family of watches with touch screen and large screen size. On this occasion, we have a slightly curved screen in which elements do not appear drawn with pixels, but they are preset. Neither has color, nor is LCD, something that we understand that it will help that the autonomy is important.
Quantifying in volleyball
The watch has the technology to quantify our activities, in fact seems to be the star functionality related to volleyball, or its variant on the beach. A smart meter of impacts should know to differentiate between those who are defensive, and that have been made to attack.
It could even identify the level of intensity of the impacts; we'll see how it is that in practice. Digestion of this information is not left on the clock, but is sent to smarter mobile devices, where data such as burned calories, or evolution of activities will be drawn.
The clock will communicate with phones that have the application Touch Zero One, available for iOS and Android devices. No confirmation on this, but it is possible that the NFC connectivity is used for communication.
Not much information about the features that have to do with notification – emails, alarms, calls – from your phone. We do know that the Swatch Touch Zero One will be priced at 149 Swiss franc, something like 140 euro.