More than a nurse we could say that Robear is an assistant for elderly or mobility problems, with great force to load with people in different circumstances, maintaining the delicacy required in operations.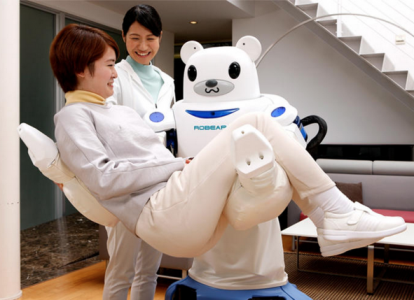 Again we have to go to Japan, land of robots, to meet the robot-bear protagonist of our story. The country is known for the longevity of its inhabitants, and therefore the need for assistance, whether human or robotic.
The machine is the third evolution, which performs the Riken Institute. The first model appeared in 2009, known as RIBA. The second evolution – RIBA-II – arrived in 2011. The specialty of the house is that of loading persons from or towards a bed, with a little human assistance.
Improvements in each pass through better control of forces and operations, but also by a thinning in its structure. The latest model weighs 140 kilograms, a figure that seems high, but that is much less than the 230 kilos that got RIBA-II.
Yes, the bear is not only for its size, because you can see that they try to make the robot look cute with the "face" of the animal. In the following video we show its appearance and abilities, such as helping to join the bed, or even placing the patient in a wheelchair: