ZTE has not surprised us with a mobile, but with a tablet that also integrates a built-in projector and that allows to enjoy content and video games both in the own screen of the device as the image projected onto any surface.
The product reminds us inevitably to the Lenovo Yoga Tab 3 Pro, but ZTE developers have given a twist over this capacity thanks to some promising specifications.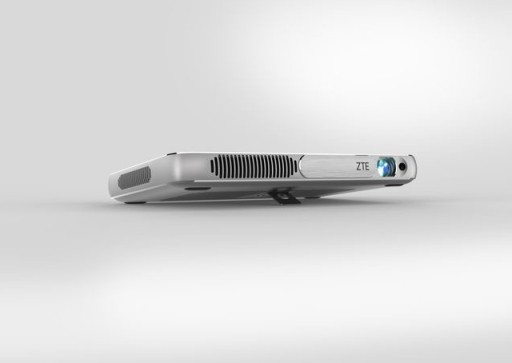 A built-in projector that is becoming less peak
The ZTE Spro Plus is a tablet with an average diagonal screen size: its 8.4 inches can be deceiving because although in two of its dimensions achieve a compact device, it is in the thickness where note that they could not make cuts.
That does not matter too much if we take into account that it is precisely thanks to that thickness that we can enjoy the laser projector of no less than 500 lumens (the Lenovo was only up to 50) and also has a resolution of 1,280 x 800 pixels.
This integrated projector allows thanks to its optical achieve up to 80 inch projection screen sizes – nothing bad for a product of these characteristics – but more important than that is as we say that number of lumens achieved. The sound, which is also crucial to take advantage of that experience that offers the projector, is covered with two JBL speakers of 4W each.
If we focus only on their behavior as a tablet, we find 8.4 inch touch screen with a resolution of 2,560 x 1,440 pixels, and a Snapdragon 801 processor, 3GB of RAM and 128 GB of internal storage that complete with a huge battery of 12,100mAh which according to the manufacturer can offer an autonomy of 6 hours with the projector on.
Versatile as few
The options of use are varied, and ZTE have highlighted the possibility of use it as a device for videoconferencing: can connect a webcam via USB and project the image of the person that we talk via the projector, but in addition we can also connect a control of video games via Bluetooth to enjoy the huge catalog of games on Android on a much larger than normal screen.
Not only that, Miracast support not only allow us to project the screen of the tablet itself, but also of our smartphone – always provided this standard supports – to also enjoy content from other devices on the projector directly.
The ZTE Spro Plus is governed Android 6.0 Marshmallow for the WiFi model both the WiFi+LTE model. Although its price has not been disclosed even, we do know that it will be shown around the world this summer. If you sought a mobile device with which to enjoy great content, here you have a good candidate.