The Mobile World Congress is one of the three most important technology fairs of the year, and although it is mainly focused on the world of smartphones also find gems like this, Samsung Connect Auto. The new Samsung dongle is quite curious by providing a standard solution options already offered by some manufacturers, and a simpler method to provide smart features to cars without going through Android Auto and Apple CarPlay.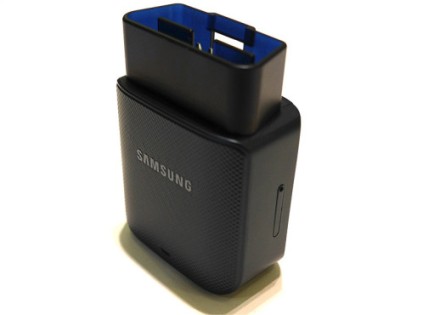 Like almost all new devices being marketed by Samsung, the Korean giant has backed Tizen OS as their operating system and look for sneak by price where car makers are failing. The only exception is that to use it we need to have an OBD-II connection, which is used to connect to the on-board computer.
Not all cars have a port as well but already it has been several years in the market, from 1996 onwards, so compatibility is high and maybe has one without knowing it. It is located under the steering wheel and is used by the official workshops to perform readings from the car when it has to pass review.
The internet of things … with wheels
Some manufacturers have long been offering on their cars the option of WiFi connectivity. Lexus, for example, offered a Hotspot device creating a WiFi network inside the vehicle, based on an LTE router connected to the car. With these solutions, manufacturers have been offering extra amenities, but unfortunately, too expensive. Lexus solution, for example, increased the cost of the vehicle at 800 euro.
With the new Samsung Connect Auto we can not only create a WiFi network inside the car but also have real-time access to the onboard computer. Samsung is committed to creating applications for Android and iOS that will get the data directly from the Connect Auto or cloud, where it will be synchronizing.
The added features are many and very interesting, as a system "Find my car" to send us the location thereof, or access to performance data and maintenance of the vehicle itself. Always protected with Knox, to prevent unwanted data leakage.
The best, no doubt, is that it is a device that can switch on and off at will, and will be compatible with any vehicle that has the OBD-II port (under the steering wheel). Just we need a data contract with an operator (AT&T for now) and drive. Having a WiFi, of course.
The Samsung Auto Connect is launched in the second half of the year in the United States. For now, Samsung has announced an agreement with AT&T to market with data rates although it is possible that the offer is extended as the release date approaches. For Europe and the rest of the world we will have to wait for something more.