Toshiba takes time demonstrating its ambition in the ultraportable and convertibles segment. They are now strengthened this presence with a somewhat different model. More modest but very attractive for its price, comes the Toshiba Satellite Click Mini.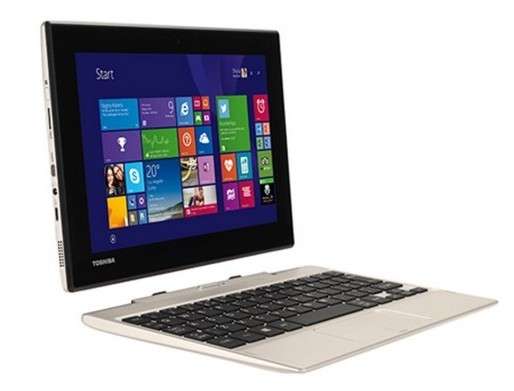 We are facing a convertible tablet whose screen reaches a diagonal of 8.9 inch and based on Windows 8.1. The tablet is attached to the keyboard to become a fully functional laptop that, yes, will be restricted in areas such as keyboard or touchpad for that diagonal. If you are looking for maximum mobility on a Windows 8.1 device, however, this may be a good alternative.
Modest specifications
The Toshiba Mini Click is a device that integrates an Intel Atom Z3735F quad-core to 1.33 GHz which among other things is characterized by low consumption – has a 2.2W SDP, and accompanying it 32GB storage and 2GB RAM to make it clear that the hardware bet is modest but sufficient for mobile users.
To try to help in that section of the productivity Toshiba offers 1 TB of storage in the cloud through a promotion with Microsoft OneDrive, a version of Office 365 personal and 60 minutes of Skype calls. In mode tablet has a thickness of 9.8 mm and a weight of 472 grams, while in notebook mode weight is 979g and thickness of 2cm.
The 8.9-inch screen offers a remarkable resolution of 1.920 x 1.200 and in tablet mode have Micro HDMI port, MicroUSB 2.0 port and SD card reader. In addition the keyboard will have a USB 2.0 port and an additional SD slot.
Price and availability of the Toshiba Satellite Click Mini
Toshiba has confirmed that the Satellite Click Mini is now available in the market and we can find at a price of 349 euro including VAT. The commitment of this manufacturer is competitive in price and although its modest hardware bet is surely to have a convertible tablet based on Windows 8.1-and you can upgrade to Windows 10- it interesting for a certain segment of users.