UBSOUND Group is an Italian company specializing in consumer of electronics audio products, founded in 2011 in Milan. The main business of the company focuses on-ear headphones, MP3, DAP and high quality DAC. They recently contacted to introduce the UBSOUND Fighter, in-ear headphones and in this post we will analyze them.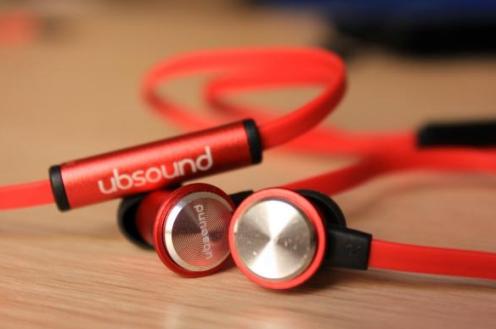 UBSOUND Fighter – Specifications
8mm dynamic driver of high performance (sensitivity of 92dB/mW)
Frequency response 20 – 20,000 Hz. Maximum distortion <0.5%
1.2m anti-tangle flat cable
Aluminum body
3 sets of pads including: S, M and L
Velvety carrier bag included.
UBSOUND Fighter, unpacked and first impressions
The UBSOUND Fighter comes in a small cardboard wrapper. Inside we found a carrier bag in velvety material, the headphones and two adapters of small and large size, are installed medium size adapters. Available in four colors, white, black, blue and red. The truth is that they are colorful and a bit surprising the size of each of the headphones, something great, but as we shall see have its rewards in reproducing low frequencies.
The body of the headphone is made of aluminum and has a chrome back button. The headphone comes out a piece of black rubber that protects the cable connection. A good detail since it is a point of frequent break, especially when we are carrying or if we receive any hitch. So whatever it is ensure durability is more than welcome.
The 1.2m cable length is flat and thus avoids tangles. In the cable of the right earpiece have a microphone with push buttons for multimedia features and answering calls. And right at the junction of the two handsets have another piece that looks like aluminum and is also capped at the ends of two pieces of rubber. The connector is four poles (for the microphone to work) and is covered in rubber, protecting the flat cable coming out of it like the other parts of the headset as we have seen.
The UBSOUND Fighter sound is warm and good spatiality, to highlight the good presence of serious in-ear headphones, but not from enjoying the media and treble. Also have a clear advantage, good separation between instruments.
The headphones are really comfortable despite its size, or perhaps precisely because of this, since rest when placed on the inside of the ear and are quite light. Other in-ear headphones are suspended by placing and therefore tend to fall or "regret". The Fighter is held in place perfectly.
The price of UBSOUND Fighter in Amazon is 69.70 euros.