A new patent from Apple shows an accessory that allows using the iPhone as if it were a computer. It is a device similar to a MacBook but it is not able to work without including an iPhone in a slot located where we usually find the 'touchpad'. If so, the phone software could be used in hardware with keyboard, display, and ports.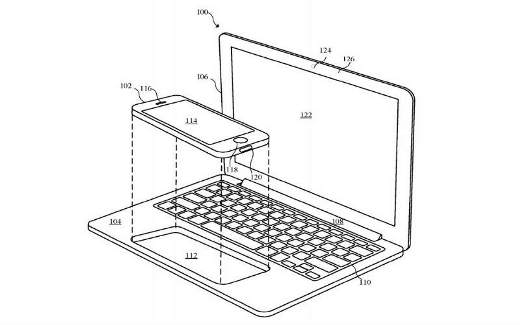 According to the United States Patent and Trademark Office, Apple is looking to create this device to use the phone as if it were a computer. The hardware is similar to that of a MacBook: large screen, physical keyboard or connection ports, among other elements, but it do not work if the phone is not inserted in the corresponding slot.
As explained by 'Apple Insider', a host device would allow data and commands to be transferred via WiFi, Bluetooth or any other wireless protocol and some memory modules could extend the capabilities of the iOS device, although the patent document does not capture too many detail.
The company seems, according collects the middle cited, which concentrates all its efforts to convert the iPad as a replacement of the notebook, so that by the time it seems unlikely that this hardware exit the market and become a real bet of Apple. In any case, should expect to know if from Cupertino want to expand their catalog or continue efforts in two lines, iOS and Mac.