Levi's has entered the world of Internet of Things (IoT) from the hand of Google. The signing of garments presented a smart jacket with fabric designed by the technology giant.
During the last day of its annual conferences for software developers (I/O) in Mountain View, California, the chief innovation officer, Paul Dillinger, placed a woven jacket with conductive thread.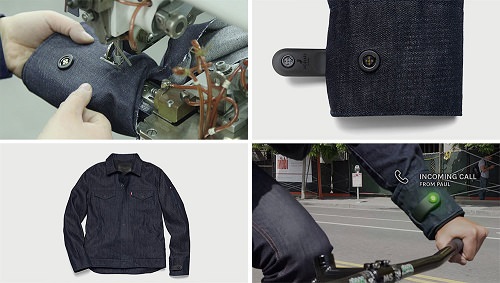 Dillinger showed that it could play music, pause and change tracks with touch or slide his hand over his wrist. The garment is a prototype, but the consumer version will be released in the spring of 2017, reported Forbes.
It could theoretically get directions, answer or forward calls, register trips in bicycle between other actions.
"Anyone who drives a bicycle knows it's a terrible idea is to direct the busy streets of the city", Dillinger said.
In the 2015 edition of I/O, both companies announced an alliance to create connected clothes. The experimental unit of Google, Advanced Technology And Projects (ATAP) produced Project Jacquard, the technology behind interactive fiber jackets.
The Jacquard threads are woven jacket in the handle of the Levi's. Before it goes on sale, developers will have access to a trial version so that they can integrate additional functions.
"At the end of the day, you can fold and put in your backpack. If it gets dirty, you can put it in the washing machine", said Dillinger.