In todays' tech savvy world having an email address is not less important than having a physical address; and Gmail being the most popular Email service of the world, it is very important for everyone to have an e-mail account on Gmail. If you do not hold one, it is still not late to have one. Gmail is a web based service which stores your mails and any document or file attached with your mails on its own server; lets you check, reply, edit, delete and download them as per your wish from any corner of the world at any time.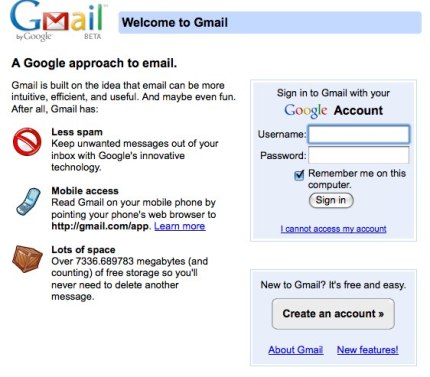 Most importantly, the normal Gmail service is free and is promised to stay free for ever. However, to get additional executive functionalities you might also opt for a paid Gmail account, but starting with a free account is surely the best way to get around. All you need to Setup Gmail Account is a computer or a smartphone with access to the internet.
Opening an account on Gmail is simple and can be done by anyone with a little guidance. The steps involved in setting up a Gmail account are described below:
If you have already set "Google Chrome" as your default browser, when the system is connected with the web on opening the browser it will automatically display the "Gmail" option at the upper right hand side corner of the window.
In case "Google Chrome" is not your default browser you need to go to the Google homepage at "www.google.com" and you will find the option at the same place.
Click on the "Gmail" button and you will be redirected to the Gmail login page. You can also directly reach the Gmail "Sign in" page by typing www.gmail.com in the address bar of your browser.
On this page you will see a sign in form; and below it there is the "create an account" option highlighted in blue. Click on it.
You will be directed to a page where you will need to provide some personal information to verify your authenticity and Setup Gmail Account. You will need to fill information like your Name, Birthday, Gender, Mobile number, any present Email address and current location in this form.
You will also need to put in your preferred Email ID and password in the same form. Before you proceed to the next page of set up, you have to type in a text or opt for phone verification to ensure that you are not a bot.
Finally after checking the checkbox beside "Terms of Service and Privacy Policy" and clicking on the blue "Next step" button you will be redirected to the next page which is the "Create Profile Page".
You can upload your picture by clicking on the "Add Profile Photo" option and browsing any picture of yours stored in the system; or you can simply skip it and click the Next Step button.
With this step you will finish the set up and now you can directly get to the Inbox of the account and start working with it.
Remember your Gmail ID and password to get back to your Gmail account anytime you feel like.