Lenovo had several new products ready for participation in the Mobile World Congress: in addition to the introduction of Dolby Atmos technology in several smartphones and tablets or presentation of the promising Lenovo Vibe Shot had another surprise in store: Lenovo Pocket Projector for Mobile.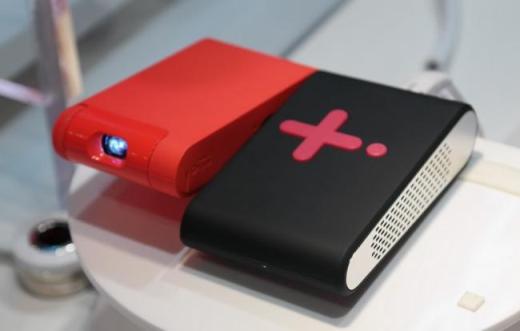 This small device weight 170 grams and fits virtually any pocket. The design is striking to combine a module with LED lamp with DLP technology and another in which are controls the projector and also provides support for the other module can rotate and orient the height that interests us.
One accessory that can rescue us in many scenarios
This manufacturer had already introduced this idea in the Lenovo Yoga Tablet 2 Pro, and now has decided to exploit and make this accessory can be part of the experience of anyone who so desires. The device has an internal battery that has a range of up to 2 hours and can play content via DLNA or Miracast, send content with MicroSD cards or connecting your mobile phone to the Micro USB port that also includes the pocket projector.
The device interface, very basic but functional, lets to navigate the directory tree from the device or card connected, to then select the contents with the cross which found on the surface of the projector and which allows to control the interface.
The projector offers a brightness of 50 lumens – the Yoga 2 Pro Tablet reached the 100 – and allows deploying a diagonal up to 110 inches. The resolution, though, it is very modest: 854 x 480 pixels, and even if only we could see it in operation – in the fair showed a still very green prototype – orientation is clear: it is not oriented to enjoy quality video content from a mobile device, but rather to assist in presentations or situations where we can share that viewing image, a video and photos with the limited quality.
The price will be $199 when it goes on sale in June, but for now this version is only compatible with Android versions 4.3 and above, in putting the final sale also support iOS and Windows Phone devices.