We have already met the new Motorola devices in various sections, but one of the most anticipated was the new Moto360 which has confirmed the commitment to design and personalization by the firm. Now Lenovo, Motorola's parent company, wants to use this device to take it a little further.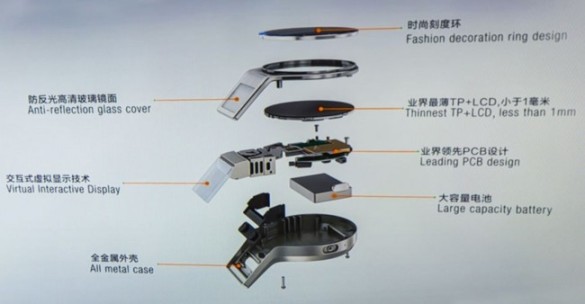 Lenovo's unique idea is to offer a small screen on the bracelet. The so-called "Magic View" is a mini display that sits at the bottom of the clock and which is coupled to the bracelet. The technology used seems to inherit many of the features of Google Glass, and the idea certainly raises interesting alternatives for use.
Waiting for a real application
Lenovo have taken advantage of the new Moto360 design but adding that small viewfinder – not exactly a screen – is that it works like a prism: the projected light on it displays an image, but unlike what happened in Google Glass, where that visor was clear, here is a solid black background, which is precisely provides the physical bracelet.
Although in images captured by Ars Technica the real result is not appreciated, if they claim that the effect is that of a screen with great clarity and in which the images and information are projected to perfection as long as one contemplates it from the right angle.
For now Magic View is just a concept, but may someday see a real implementation of one of the most original ideas which we have seen – together with that model with e-ink display – in the smartwatches segment.