We knew that it seems that Microsoft will wait for the arrival of Windows 10 to renew their high-end Lumia phones, but we did not expect perhaps as it is the constant renewal of the low range, in what seems an attempt to maintain or improve their position in the countries where Android One could steal share.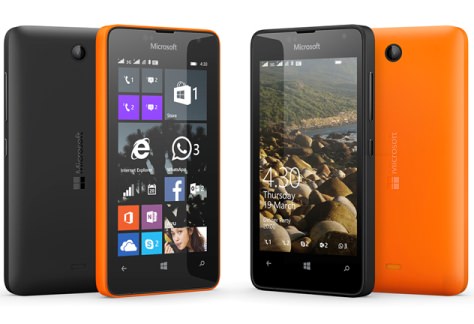 And is that not so long ago we met other terminals called to be the cheapest in the range, Lumia 435, and now the Redmond just announced a new smartphone, Lumia 430, where the differences from the aforementioned are practically negligible.
Lumia 430, new smartphone entry
Microsoft remains more concerned about by emerging countries rather than large markets. And it is that it is ultimately up to renew the input range, first smartphones with more economical as possible, and secondly by smartphones perhaps more of a middle range, but also at a price that can do doubt who think terminals from other manufacturers.
Thus was born the Microsoft Lumia 430, a smartphone that will fight to reach the tightest budgets. Its screen is four inches with resolution of 480 x 800 pixels (233 ppi), and behind it are a Qualcomm Snapdragon 200 processor with 2 core at 1.2 GHz. Accompanying this 1GB RAM, goodbye smartphones with only 512 MB, and 8GB internal memory, expandable via microSD up to 128GB.
As for the photographic aspect Lumia 430 has two megapixel rear camera, no flash, and 0.3 megapixel camera on the front, so no one should expect great pictures with this terminal. The battery is 1500 mAh, up to 8.4 hours talk time or 19 days of standby, and only marketed in dual sim version. Of course, mobile connectivity is limited to 3G.
Comparison with Microsoft Lumia 435
Four inch screen, resolution of 800×480 pixels, Qualcomm Snapdragon 200 processor with 2 core at 1.2 GHz, 1GB of RAM, 8GB of internal memory expandable via microSD card, 2 megapixel main camera … sound familiar? No talk of Microsoft Lumia 435, but the newly discovered Microsoft Lumia 430, in which the differences are minimal, as the Lumia 430 will only have dual-sim version.
Microsoft Lumia 430: Price and Availability
As mentioned above, Microsoft intends to fight for tighter budgets with Lumia 430. The price before tax is $70, about 66 euro at current exchange rates, and will head to Arab and Asian countries, Russia, Ukraine and Belarus to arrival in April. The color range is more limited than on other occasions and available only in black and orange. And of course, Lumia 430 with Windows Phone 8.1 come with a promise to upgrade to Windows 10.