It is the smartwatch that makes a difference in design with the permission of the LG G Watch R – and its creators have given a interesting twist to the design to increase its appeal: Moto 360 and has versions with metallic finishes.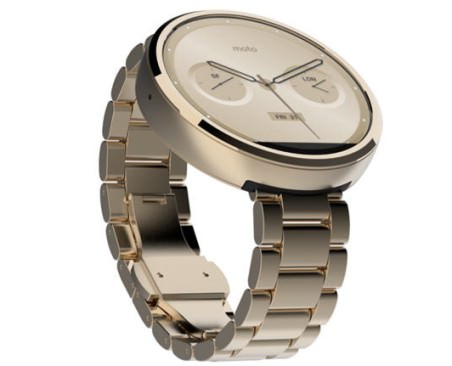 A metal bracelet that promised at launch and available in two shades (dark gray and light gray) with a thickness of 23 mm accompany them now "Slim Metal" models, which offering two 18mm metal bracelets with golden and light gray colors, also accompany the framework of the watch.
The design of the Moto 360, evolutionary
In the new models the designers kept the other elements of these devices such as the lower band by sacrificing some criticize that "perfect circle" – but digital "spheres" of both models accompany the color of the metal bracelets with the same finished in gray metallic gold both on the inside (for software, of course) as on the outside, with this stainless steel construction that surrounds the area of Moto 360 tones.
Our analysis of the Moto 360 and showed the great successes that had been given to this device that gave the jump to the round design instead of traditional models with square screen. Now jump to these metallic materials represents an attraction more to potential buyers as the stainless steel frame sharing models with leather strap or previous metal (available in dark gray or light gray, repeat), adds now the frame in golden color, which does not mean that the frame is made of gold, is just a coat of paint that actually qualify as 'champagne' color.
These devices therefore follow in the footsteps of other manufacturers like Pebble initially offered a model with plastic, sportier finishes, and have then added these versions aspects, construction and metal finishes, smarter. Motorola already shows these models available on its official website, where it's have different prices for each version:
Metal frame (dark gray and light gray) and 22mm leather strap: $249.99
Metal frame (dark gray and light gray) and 23mm metal bracelet: $299.99
Metal frame (light gray) and 18mm metal bracelet (light gray): $299.99
Metal frame (champagne) and 18mm metal bracelet (champagne): $329.99