Currently the most famous applications begin to take their lite versions. As is the case of Youtube, that now we presents an app called Youtube Go that serves nothing more and nothing less that to watch videos offline. Let's learn more about it in this article.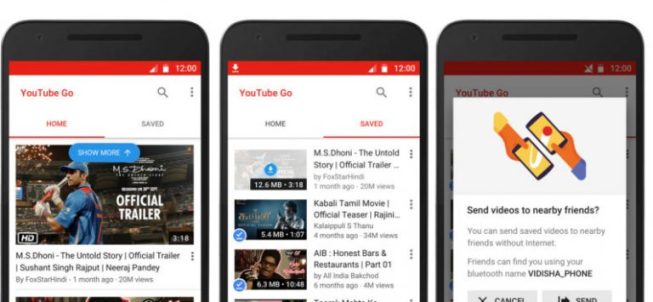 Youtube Go: Google's new commitment to watch videos offline
But in this case, the Internet giant has not opted for a lite version of one of its most famous applications, but rather, is a version of the app from the famous YouTube, thought in those countries where the internet connection has a very slow speed. For that reason they have called to its solution YouTube Go.
Youtube Go is an app from Google designed in the situation of India with regard to the problem with Internet connectivity, where data rates are limited and their coverage areas are very poor to also add the fact that the connection speed is very slow. This makes it very difficult to enter to YouTube from India, if they are not connected to a Wi-Fi network.
But what is so special about YouTube Go? – With the new official YouTube app you can download videos and then view it without connection and to share it with your friends via Bluetooth, and most likely app as it is Whatsapp. It is ideal for when you have no internet and you need to watch videos offline.




YouTube Go application is very simple, this has the search bar, the Home tab to see which are the most popular videos and the feature tab Save, where all downloaded videos are ready to view offline.
The application also allows choosing the quality for the videos, either by playing streaming as you can also choose the quality with which you want to download videos. In addition, you can view a preview of the videos in the thumbnail image of these to know what it is about the video, and decide whether to download it.
Moreover, this is not the first time that on YouTube has a service of similar characteristics. This is called YouTube Red, which has the ability to download video and then watch them without the need to be connected; besides this service is free of ads. But unlike YouTube Go, subscription to this service is paying, and is limited to only the territory of United States, Mexico, Australia and New Zealand.
For now YouTube Go is enabled only in India, but not the possibility that in the future reach more countries, as well as the same is expected with the YouTube Red.